5 Stages of The Powder Coating Process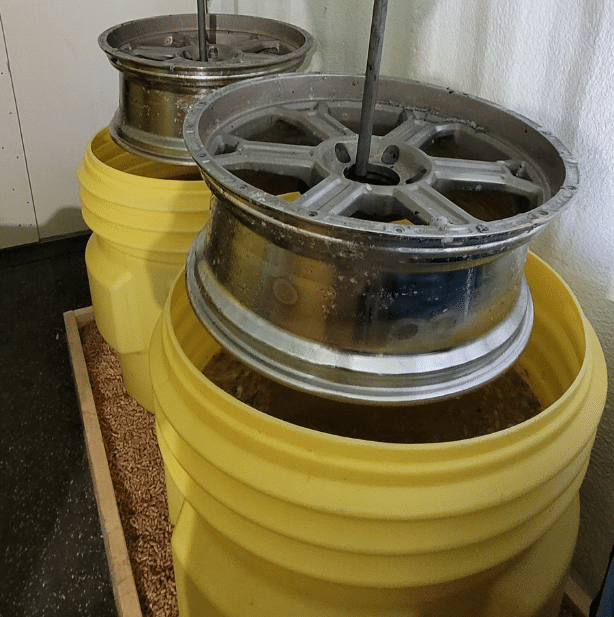 Stage 1 - Chemical stripping
The initial stage of the powder coating process is to remove any impurities or debris such as rust, old paint or grease by chemically stripping the desired metal or aluminum surfaces that are being worked on. This initial step is essential in preparing the metal parts and ensuring a clean surface for the paint powder to adhere to during its application.
Most aluminum and steel parts have oil residue on them which is why it is critical to handle all parts with gloves to prevent naturally occurring oils in your hands from being transferred to the soon to be powder coated parts. Proper preparation when powder coating is the difference between good and great results!
Typically, not all parts require chemical stripping, however, we always clean, degrease and sandblast all new parts that have never been painted to maintain our high quality in standards and most importantly exceptional results!
Stage 2- Neutralizing and Rinsing
The second step of the process involves submerging the metal and aluminum parts in a neutralizing tank for at least 30 minutes. The stripping agent is a high pH that neutralizes the parts thoroughly in preparation for the stage. All neutralized parts are then rinsed, and any parts that are metal are then sprayed with a HoldTight® 102 to prevent flash rusting.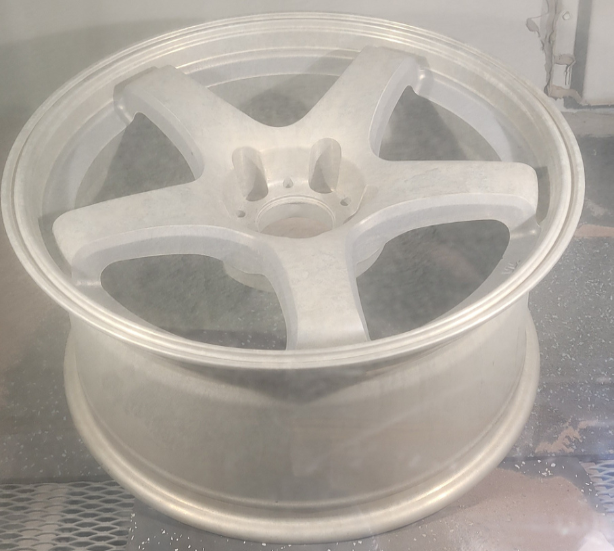 Aluminum oxide is the only compound used by 5 Degree Powder Coating . It is clean and consistent and provides a stable surface for the powder to adhere to for optimal resutls . All parts required powder coating are ran through the sandblasting booth regardless of their condition . Sandblasting is a mandatory steps that helps ensure that our final products will meet and ideally surpass our clients expectations.
Outgassing involves heating up the parts to a temperature that is 40 to 50 degrees higher than the paint cure temperature . The thickness and size of the metal or aluminum parts will impact the duration of this stage that is between 20 min and 1 hour in duration. Outgassing ensures all parts are dry before coating, but also draws out any gasses from any microscopic pores in the parts before the powder is applied. This is the finale stage before applying the powder.
Stage 5 - Powder Coating Application
The fifth and final step is everyone's favorite: applying to powders to the parts to make them look like new! With over 6000 colors to choose from, results will obviously vary but allows for our clients to pick a color they realy like. Whatever your favorite color is, we can match it! The color options are almost limitless and truly allow for customized results. Powder coating can sustain the wear and tear demands of most industries and still look great. A typical lifespan of our powder coating services is approximately 20 years. Furthermore, coatings that have polymers and urethanes can last even longer. We can also apply a clear coat over each color for additional protection and can offer an additional primer coat for stell parts and parts that over regularly exposed to harsh element.
These are the 5 stages of our Five Degree Powder Coating process. Feel free to contact us anytime to learn more about our powder coating & sandblasting services or anything relating to this process. We enjoy providing exceptionally great powder coating results to all our clients. We can powdercoat your favorite automotive or motorcycle parts, wheels and rims or even your bicycle or BMX. Our clients rave above the the exceptional look and durability of our finished products after going throught this proven 5-stage process. We hope to discuss a future project soon.